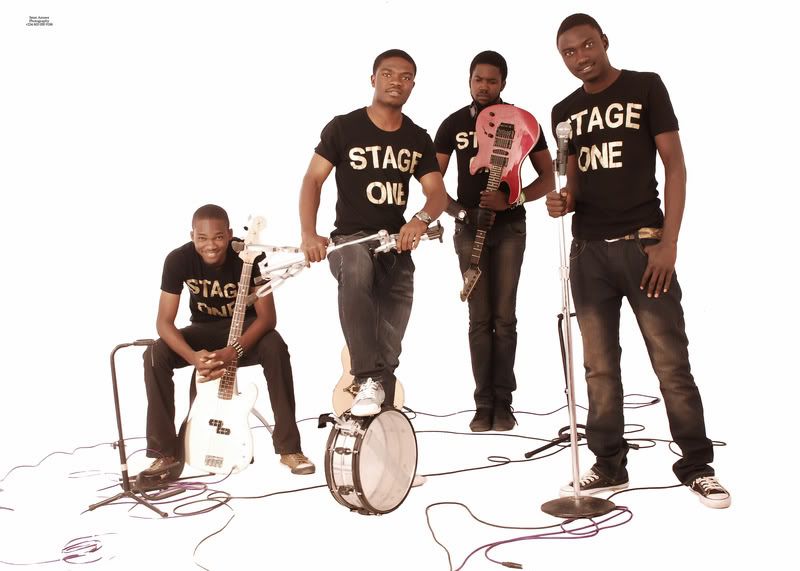 THE STAGE ONE INTERVIEW WITH NAIJAROCKSMUSIC
#NRM: What type of band are you?


StageOne: Hmmmm… This is a question we can't answer easily in one sentence because we have come to see single-worded definitions easily misunderstood. First of all we all are Christians and we make music. Our Christianity flows through our music and defines it. As for Genre, we are a Nigerian rock band ie, Rock with the language and stylistic influences of Nigeria.





#NRM: Who and who are in the band and what instruments do they play?
Bass Guitarist: Joseph Jawfu
Lead Guitarist: KachiMozie
#NRM: What makes this band different from every other band in the genre in Nigeria?
StageOne: That's a question people from the outside can answer for us.
#NRM: Who are your musical influences?


StageOne:

Need to Breathe, Fireflight, Skillet, Newsboys, David Crowder*Band, Gungor, Coldplay, Red, Threadstone, U2, Foo Fighters, Switchfoot, Bach, Hillsong, Jesus Culture, Ludwig Van Beethoven, Desperation Band.



#NRM: What are your dreams and goals as a band and as individual rockstars?


StageOne: First of all we are not and do not consider ourselves or even aspire to be "rockstars". That being said, our one big dream as a band is to influence and bring positive change in our society, either directly through the songs we sing or through the lives we live as individuals.


#NRM: Who writes the songs, what are the basic themes of your songs?


StageOne: We really have no formula for this, it could be any individual in the band who's so inspired or sometimes we come together as a band to write songs. Also when individuals write, the entire band helps to edit the songs.
There can be as many themes to our songs as there are life issues. We are real people living in a real world and our world and faith influence what we write. We see the world through the lens of our faith and we write from that perspective.
#NRM:
Tell the readers about your previous releases "Rise again" and "the rising". Who wrote the song, the theme? How it was produced, obstacles during production and you wrote them?


StageOne: Rise Again was written by Umar Jawfu of Threadstone and was produced by Makan "Sizzle" King who also produced The Rising which was written by Kachi, The lead guitarist. Both songs have an underlying theme of hope and redemption.
#NRM: Tell our readers about future plans and upcoming releases and tours. Give our readers an idea of what to look forward to with the band.
StageOne:Plans for an EP are in the pipeline for late 2014. We're also putting logistics together for a local tour in Jos alongside charity projects also here in Jos. We are also in the process of refining and evolving our sound involving new influences and sound styles.
#NRM: Is there any other release apart from "Rise Again" and "The Rising"
StageOne: We have two other songs available online titled, Cry and Everything both of which are available at http://www.reverbnation.com/stageonerox
#NRM: How do the new songs differ from your older material?
StageOne: The new songs inculcate our new and evolving musical influences and more Nigerian dialects.
#NRM: How do you promote your band?


StageOne: Word of Mouth, Twitter (@stageonerox), Facebook (www.facebook.com/stageonerox) and Reverbnation (www.reverbnation.com/stageonerox).

#NRM: Describe your show, visual and musically?

StageOne: This is also another question that is better answered by external observers.


#NRM: What inspires you guys to do what you do?

StageOne: God has given each of us a gift that feels trapped in and we just have to let it out. The prospect of affecting young people and finding fullness in God through our music and lives is all it takes to push us.

#NRM: How does music affect you guys and the world around you?

StageOne: a comprehensive answer to this question would probably warrant a lesson in history but to keep it short and simple, music, like all art, is a summation of the spirit, experiences and emotions of the artist and that in itself is powerful beyond measure. This is so because every time you listen to music and get lost in it, you are not just getting lost in the melodies, rhythm and harmonies, but in the spirit, experiences and emotions of the artist. That being said, we believe that music has the power to change the world either for better or for worse.



#NRM: What's new in the recording of your music?

StageOne: Over time, our musical and stylistic influences have been evolving and changing and these changes will come through in the new recordings.

#NRM: What are the biggest obstacles for bands?

StageOne: Commitment! Commitment!! Money management, discipline,

#NRM: What's the best and worst thing about playing live?

StageOne: The best thing about playing live is the freedom and flexibility to reinvent old songs and have fun with them. The worst thing about it has got to be bad sound.


#NRM: What's your outlook on the Nigerian Music industry today?
StageOne: The Nigerian music industry has grown quite admirably in the past decade or so in quality and influence. But that in itself is the nature of life as for every one good product, there are 12 fake articles competing for it's space. The Nigerian music industry can be better and where it is now is a testament to that fact.
#NRM: What do you think about downloading music online?


StageOne: Online music distribution is the future of music distribution and to deny that would be to attempt to exist in a bubble far from reality. It is true that the ability to (many times illegally) access music online has lead to a loss of revenue that would have been made through CD sales,

but it is also true that the availability of music online gives every artist the potential for global exposure at minimal cost.

So in our opinion, online downloads, like everything, has it's advantages and disadvantages but for us at this time, the advantages far outweigh the disadvantages.
#NRM: What's your opinion of President Jonathan and his administration so far?


StageOne: Stage One is made up of four individuals with differing political views so attempting to answer this question will take up way too much space. That being said, we believe in the biblical injunction to pray for our leaders and those in authority so irrespective of our individual opinions, we believe the president deserves our prayers and support.
#NRM: What advice would you give to fellow bands?


StageOne: whether we are in the position to be giving advice to other bands is questionable but if we must, here it is: Work hard at your craft and refine it continually till it becomes something of value. Don't involve yourself in this if you will not be committed to it as your actions affect more than just you but also the other members of the band.

#NRM: Tell us about your next shows if any and why we should be there?

StageOne: As we already mentioned, we are working on plans for a local tour in Jos and also for a charity concert for an orphanage we have adopted (King's Kids orphanage "Gidan Bege",

Jos). More information about these and others will come through our official channels in good time.
#NRM:
Via which medium can your fans get in touch with you?
Thanks Guys for taking out time to answer these questions and I hope our readers will love to read about one of their favorite rock bands in Nigeria. Thanks and Rock On \m/