As usual, we at NaijaRocksMusic always bring the best while its still fresh to your our readers. We always go beyond boundaries to give our readers what they deserve. We are really thankful to Stage One band for making out time to tell us their story and granting an interview as well. Here is their Story and excerpts from the interview comes in the next post. Here's the Stage One Story....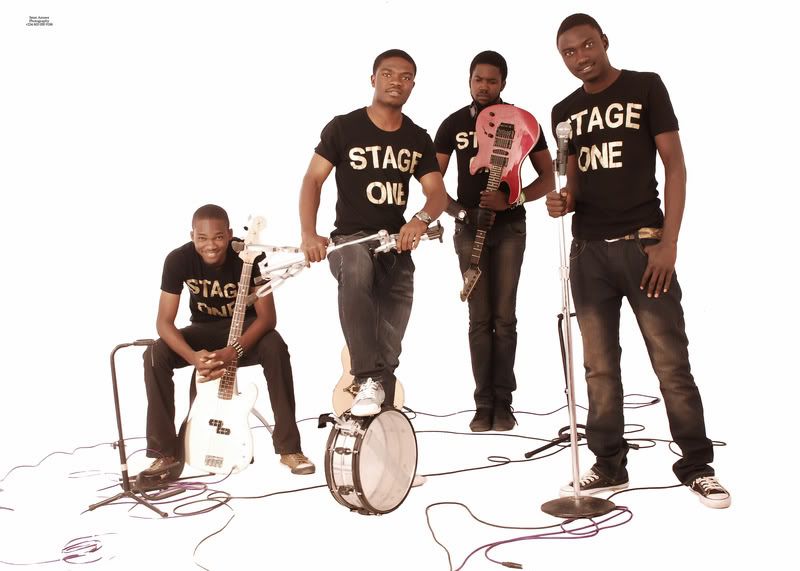 Stage One Story
HISTORY:
The Stage One evolution began back in 2008 with 8 band members of which only one is still here (Joe). In the beginning (and till now) the emphasis was more on making music together as against looking for a hit and having fans.
The band went through various changes to the line-up of instrumentalists and vocalists as time went by. Then the band began to write songs which they rehearsed alongside covers of songs by other musicians.
As a band, the first concert as Stage One was at ECWA Good News church in Jos still back in 2008 and it isn't to be counted as the best performance by any group anywhere but with the encouragement of friends and family the band continued to practice and get better.
In the next couple of months the band somehow continued to get invites to play at
a few concerts and churches and continued to get better at their craft. In mid-2009, Stage One opened for Threadstone's Rock n Worship concert with a line-up of 4 band members a number which has remained constant with the band despite changes in line-up. As time went by Stage One opened for Threadstone at quite a few other shows and continued to develop confidence and stage discipline while at it.
In 2010 when, for different reasons, two out of the remaining members became unavailable, the band had to go on a hiatus for a few months. During this time, the available members of the band would get together for mini jam sessions when they could and to just hang out.
The band then re-emerged with a brief (really brief) period with Joseph as the Lead vocalist, Yehoshua still on the drums, Femi as the bassist and Kachi- a budding guitarist that was introduced to Joe by a mutual friend- as the new Lead guitarist. after this period, roles were swapped a bit and a new line-up emerged with Kachi as the Lead vocalist and Lead guitarist, Joseph as the Bass guitarist, Ose on the Keyboards and Yehoshua still on the drums.

The band stayed with this new line-up for about 6 months before Ose had to move from Jos to Benin. Stage one was now down to a trio and this seemed to work for a few more months before Kachi began to express his discomfort with the suitability of his voice for the duties of lead singer. This struck a chord with the rest of the band and began a search for a new lead singer. This search continued through many blunders and false starts till the band was introduced to a rapper-turned-singer by a mutual friend. His name, Nuhu. His vocal skills and personality immediately synched with the rest of the band and rehearsals began in ernest. The first task Stage One had to face with Nuhu singing lead was a two song set at the ThreadStone Miracle for a Lost City Album launch in May 2011. The performance came off with very good critical reviews and from then on. The band has had a stable line-up and has continued to work on improving their live act while playing in various concerts and churches in Jos and abuja.
In the latter part of 2013, Yehoshua had to pull out. Panam Thomas joined Stage One as the new drummer. We had watched him play at a concert and we loved his spirit, passion, attitude. He was just amazing.

Scroll up to read about and get even closer to your favorite Nigerian Christian Rock band. Thanks and Rock on \m/