LIST OF NIGERIAN ROCK AND ALTERNATIVE ROCK BANDS
Its Good Friday here and as i type this post, am on all black(My Tee and Jean) mourning the death of Our Lord Jesus and in same spirit wish everyone a splendid Easter celebration. Am being led by the spirit to write about

Gothic

, heavy metal rocks, etc after all its Black Friday but I'll simply be patriotic here as what we do here

is

basically dedicated to you.
N
igerian rock music scenes is gradually taking centre stage and making a sound, a really loud distorted and overdrived sound in the Nigerian entertainment industry, and as this blog is dedicated to the fans of rock music in Nigeria, we give a compiled list of the bands that rock like Linkin Park, Coldplay, Casting Crowns, etc. They are the next big thing to happen to the Nigerian music industry and i kinda have this feeling they are the best thing that'll ever really happen. oh! yeah? you heard that right...
The first rock band that though yet to hit the airwaves across the country but has been around for quite a while and they truly rock. The one band I can categorized

and put in the same playlist as casting crown, Third Day and Switchfoot etc. Threadstone (formerly Scarlet Thread) really know the few spice there is in rock musics and have added it to their songs and I particularly like the "He Who Dwells" and "I am Nigeria" the vocals are quite beyond the average. Their live performances are also a thing they can hold up their shoulders and beat their chest for having done something out of the ordinary, I have not really watched them live but came across a video of their live performance with M.I. of

"Numb" by LinkinPark, it was good-good and a friend who's watched them in Jos made good remarks. An album already released too(Miracle for a lost city).......
Oh Yeah! and here comes the LinkinPark replica. My apologies for the comparisons but it'd be a good one to drive my point home for those that have never listen to them to know what they sound like and where they stole inspirations from. An extremely versatile Band with a perpetual crossover sound: a mix between hip-hop and out and out Rock. Their lyrics are probably their greatest strength but their delivery also leaves very little to the imagination. Experimental Music was an interesting attempt at a more metal feel but while it didn't amaze me, their performance was top notch and I hope to see more of it from the RTMC's in the future. Their decision to give their 4th and latest studio album away as a free download will also go a long way in getting them a more fanatic cult following both at home and abroad.
I have heard several releases from this band starting from thier cover of Coldplay's popular song "Clocks". Their "Call me what you like"

and "On and On" and am left in a dilemma, of what to call this amazingly awesome lads. First off, a unique name for a band, great vocals and songs which sounds more like stuffs produced by Markus Dravs or Mike Shinoda. They can be compared to the likes of The Fray, Coldplay, Linkinpark, You and me at six, and so many more. "On and On" is a good ballad and "Call me what you like" sounds more like an Emo Rock. They are a force to watch out for as they are one of the first bands bold enough to go secular and first to come up with an E.P. (Extended Play) as most rock bands usually do. Their live performances, I'd say is a plus one as they really know how to take up even the rock haters in a concert. Well fingers are crossed as we await their third studio song titled "Save me".
Queen of the Nigerian Alternative Music Scene and she is just amazing and out of this world or rather out of this country. Talking about country, she did most of her recording and mastering of her second album in France. Her music including her latest album is an amazing and offer amusing journey with her as she delivers a unique view of Nigeria, Nigerians and our view of the world through the eyes of a poet. Her Jazz like musics makes me feel like i have Adele's song playing into my ear holes (enough of the comparisons already) except for her unique use our native language(Yoruba) and that endears her to my heart even more. She is truly a queen and she just keeps getting better and better and better. Thumbs up Sweetheart!
The most distinctive characteristic about Eben is his voice, you'll just love the way the words sounds when he's singing. While he might not be as popular as many on this list, he definitely is in their caliber. He's "On the Rock" album is filled with tune that gets you caught up and he's got a voice.....yeah i said that again, he should rather try doing some heavy metals and lets see the spirit of Creed, Metallica, Slayer, Anthrax and Three Doors Down flowing in the air.
In every sincerity, i think their Nigerian National Anthem lacks that vocal intensity, has weak tunes and have not really watched any of their videos or live performances, so I'll say based on what I've listen, they still have quite a long way to go but its a good thing to have that boldness to do rock in a country that appreciates rock but am yet to understand whats holding them back from really accepting it. As one of the first secular indigenous rock band? Thumbs up guys!
As Multi-faceted and Multi-talented Photographer, Musician and Entrepreneur, TY Bello is the full package. If I were to describe her in one word, that word will be: Inspiring. Her songs are so uplifting but lyrically and rhythmically. She is one of the best and has always been since she broke out in KUSH's "The Experience Album" and her GreenLand was a major national hit too.
Immensely talented Singer/Songwriter with the potential to be one of, if not the, best in Nigeria. However, I think he needs to release more works and another tip of advice to you bro? Dont deviate from the rock scene as you are quite good there and have a good number of followers cuz you cant be as good as Wizkid or Timaya, they know the clubs quite well and know what and how to sing for them. He's Quite similar to Asa and probably could be as good as she is.
Another queen of the alternative scene, multi-faceted and Multi-talented fashionista, Musician and Entrepreneur, she is another full package. If I were to describe her in one word, that word will be: COOL. Her songs are so uplifting, lyrically and rhythmically. She is one of the best out there and continues to thrill with some even better songs. She quite a rocker.
GT The Guitarman and his band, "The Emband"
Quite another good rocker that has not really gotten the limelight he deserves, but he's given alot to the Rock music industry with many tours and wonderful songs.
And here's another rocker that has not quite gotten the limelight she deserves as is the case of GT the Guitarman. She has two solid albums behind her and recently released a new single titled, "I'll make you dance". Based in Abuja and also a computer geek, The acclaimed queen of soft rock, has gone on tours, wowed many with awesome stage performances and great guitar skills which for a "QUEEN", I'd say that's way too much for her you know. Though Avril Lavinge may not be one of her greatest influences but in reality, her songs reminds me of her.
We've still got other upcoming bands like Stage one and Neo. Stage One still takes us listeners back to the church but Neo is out in the secular world too and we are yet to confirm if this band that has been around for a while now, shot a video for their single are really ready to take to the stage quite yet.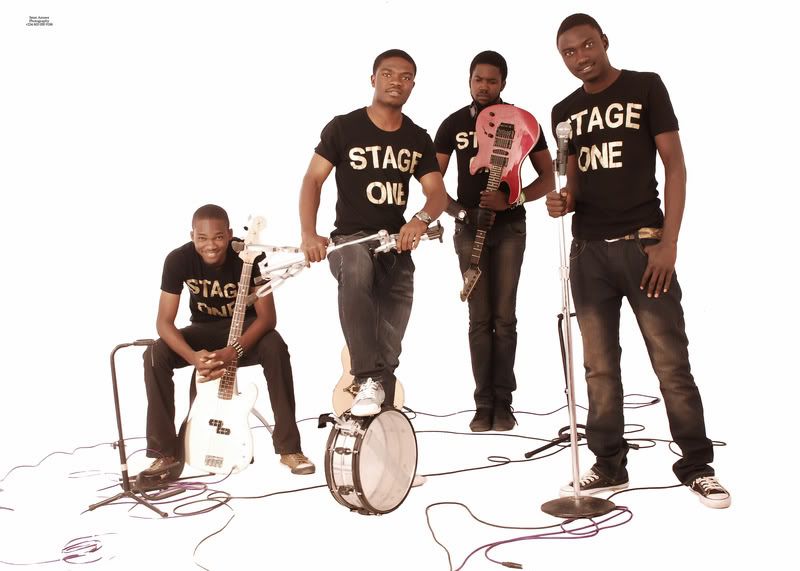 If you have any contrary information, please kindly do post your constructive criticism. Thanks very plentiful! :-) ROCK ON!!